On this beautiful Sunday morning of May 6th our team headed for Newburgh, NY to attend the NYEA (New York Electrolysis Association) Continuing education event.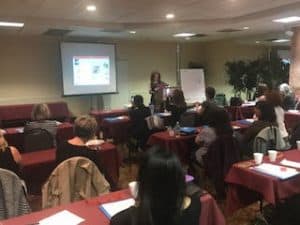 We get to meet other members, expand our network, exchange experiences, encourage and improve relations with each other and also get to hear top lecturers in their field. As part of our continuous education, we gather knowledge not only in our field but in general and are able to better understand and serve our clientele.
After a lovely breakfast where we got to enjoy some mingling and seeing old time friends, the lectures started.
Two hours were dedicated to infection prevention practices and safety in electrolysis. Keynote speaker Amy Green, RN, MPH talked infection prevention in the medical field, and how to apply the basic hygiene and sterilization practices in our individual practices.
At Hairless NYC Electrolysis Clinic, we are happy to report that's one of our top priorities. We follow all the mandatory sterilization guide lines and go above that. Sterilization, lab testing, disposables gloves and other materials we use, hand hygiene, follow-up education seminars are all in our agenda to always have impeccable surroundings and competent care.
The next 2 hours, Gia Pauldine CPE spoke about the perfect eyebrows and how to master the perfect shape. While many people just let their eyebrows be, many more pluck, shape, and sculpt them to look exactly the way how they want them to look. She advised on where should an eyebrow start and end, where should the arch be, gave tips on what's best to use to fill them up, suggested to invest on nutrition  for eyebrows and eyelashes and most importantly to consider short term and log term future before considering semi-permanent or permanent changes.
Many clients have chosen Electrolysis for their eyebrow shaping. Electrolysis, the only permanent hair removal method, is a great option for those tired of tweezing, waxing and threading. Not only women but men also, shape and groom their eyebrows. Women can enhance their shape or change, sculpt and lift – the possibilities are endless. Sometimes one eyebrow can differ in form and shape from the other and it might not always be possible to shape them the same, on the contrary this irregularity can make you you. Men keep their natural shape with a cleaner look or get rid of their unibrow permanently. Teens and even pre-teens of both genders receive treatments to define or separate eyebrows.
At Hairless NYC Electrolysis Clinic, we as professionals know how to proceed and get best results at minimum discomfort, and at the shortest possible time.
Continuing education never stops for all of us at Hairless NYC Clinic– it is a life time of commitments in order to achieve higher standard of professionalism. We love what we do and we aim to always get better at it.