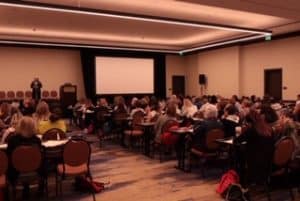 Lia Karaolani CPE , recently attended the American Electrology Association's Annual Convention and exhibitors' showcase at the Gaylord Texan Resort, Grapevine, TX.
Electrologists, permanent hair removal practitioners, gathered at the American Electrology Association's annual educational meeting in Texas, from October 14th– October 20th, 2019. It is the largest gathering of Electrology professionals. Attendees included electrologists from the USA, Canada, Europe, Japan and Australia.
This year's educational gathering focused on electrologists improving themselves, their skills and their practices. Attendees heard expert speakers discuss a wide- range of topics including: over treatment, infection prevention, awareness and safety, preventing injuries, dermatology, understanding gender transition, business, and insertions.
In additions to attending the lectures, Lia was able to view the newest equipment and products at the exhibitor's showcase.
At Hairless NYC Clinic keeping up with new developments in our field is very important. Our goal is to provide best customer care, and continuously enhancing our knowledge and expertise can only improve that.