Electrolysis For Men - Safe, Effective, and Permanent!
Guys, don't be shy - ladies love a well-groomed man! Hairless NYC specializes in permanent hair removal solutions for men of all ages and skin types. We have many male patients and understand the unique needs of the male customer. Rest assured that our clinic will be a place where you can relax and feel completely comfortable.
Electrolysis is the Only PERMANENT Hair Removal Solution!
W e realize that hair removal is not likely at the top of most men's list of recreational activities. In fact, this is why so many men prefer electrolysis to other hair removal options - it's PERMANENT! After a complete cycle of electrolysis treatment your unwanted hair will NEVER COME BACK!
No Type of Hair Problem is Untreatable!
F rom pesky "unibrows" to forrest-like back hair, electrolysis represents a permanent solution for getting rid of unwanted hair once and for all. Electrolysis is also great for men who suffer from ingrown hairs and the unsightly and painful effects they have on the skin!
Boost Your Confidence - At the Beach, On a Date, Anywhere!
W e realize that "hair issues" can be a source of insecurity and discomfort for many men. This doesn't have to be the case! Electrolysis treatment can permanently remove any hair that you makes you feel uncomfortable or embarassed. Regain your confidence when you go to the beach, go out on a date, or meet someone for the first time - don't let tiny little hairs put a big dent in your self esteem!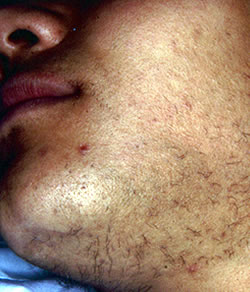 Male Patient BEFORE Electrolysis Treatment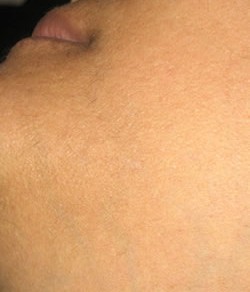 Male Patient AFTER Electrolysis Treatment
Hairless NYC Clinic has many Male Patients of all ages!
Don't worry, you aren't the only guy with hair woes! In fact, we have hundreds of male patients, and field new inquiries from men every week. Wanting to get rid of insightly or uncomfortable hair is perfectly normal regardless of your age or gender.
Here's what a few of our male customers have to say about their experiences at Hairless NYC Clinic:
"Monique and her staff make you feel at home from the moment you walk into their zen-like office. Within a few minutes of your first visit you realize that these are great people who truly care about providing great results for every single one of their customers."
– A.Z. from Manhattan
"My wife convinced me that Hairless NYC Clinic could permanently remove the hair that for years had put limits on our intimacy. Each treatment took less and less time and now the results are permanent. No more shaving hassles! My wife was right and loves my clean look from top to bottom."
"Monique's clinic is spotless and modern.  The staff is very professional, discreet and respectful.  First Class!"
–  R. C.  Upper East Side
"After my divorce, I began dating a woman to my surprise that had the smooth "Brazilian" grooming. When we got together, I was embarrassed and felt like a gray, hairy old man… but I'm only 39.  I did some research and discovered that Laser hair removal won't work on removing gray hair but electrolysis from Hairless NYC Clinic does remove gray hairs.
My gray chest hair, shoulder and private area hair is gone for good! This investment will last a lifetime. Very grateful to the staff and excellent service at Hairless NYC Clinic."
 – Jason, NYC